Cheapest International Money Transfers: TalkRemit Has the Lowest Fees
Sending money to loved ones abroad in today's digital era should be fast, flexible and secure. And you shouldn't have to pay steep fees for transferring money overseas. Online money transfer platforms are the cheapest and most convenient way to send money across the globe. TalkRemit has the lowest fees on the market and offers the cheapest international money transfers for the global diaspora community. Learn more about our online remittance platform in this blog.
A cheaper way to send money abroad
Why waste precious time queuing up at high street banks or remittance agencies when you can send money online from the comfort of your home, or on the go via your mobile? Traditional methods of remittance are no longer a convenient or cost-efficient way to send money abroad.
By using an online money transfer service, you can avoid the time-wasting and hefty fees. TalkRemit's remittance fees are the lowest available on the market – we want the process of transferring money to family and friends abroad to be quick, secure and hassle-free. That includes minimising the fees you pay for global remittance. Our members can enjoy the cheapest international money transfers. 
You can check the fees you'd pay for sending money to your country of choice with TalkRemit by heading to our homepage. Select your destination country and the amount you'd like to send, and you'll get an instant Quick Quote calculation.
Currently, it costs nothing to transfer money abroad with TalkRemit! To celebrate Halloween, we're treating customers to fee-free money transfers! No tricks, no fees, no promo code required. Make scary savings now – register or sign in now to send money without fees!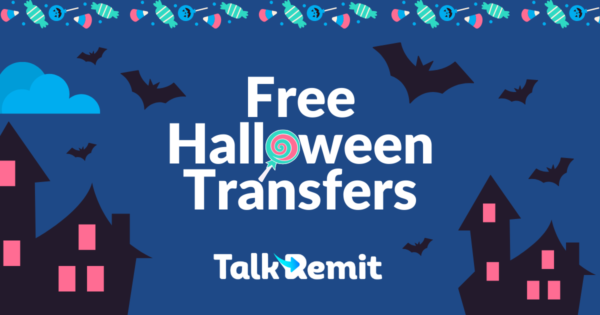 The trusted money transfer service for the global diaspora
At TalkRemit, we're committed to keeping fees low and making the process of sending money abroad as convenient as possible. Our online remittance platform uses cutting-edge technology to enable users to make instant money transfers, without the frustrating delays, while we only partner with trusted remittance partners to ensure that your money is safe.
Our money transfer app contains an eWallet feature for making international money transfers in a matter of seconds, plus it offers free instant messaging and video calling capabilities.
We find the best exchange rates for money transfers abroad
TalkRemit is a fully-authorised Electronic Money Institution (EMI), regulated by the Financial Conduct Authority (FCA). Our international remittance system provides TalkRemit users with competitive exchange rates for global money transfers, no matter the currency or the destination country.
We use innovative FinTech solutions to get you the best exchange rates and leading data security tools to keep your details safe. TalkRemit even offers a money-back guarantee on all global transfers
Our handy Quick Quote feature gives you a clear breakdown of your proposed transfer, once you select the receiver country and the amount of money you'd like to send. You'll be shown the remittance fee, the current FX rate for your money transfer and the amount of money your recipient will receive in the destination country's currency.
There are no hidden charges with TalkRemit – check out how it works and see how easy it is to send money abroad with our online remittance service.

Enjoy the cheapest international money transfers with TalkRemit
If low-cost remittance fees and super-fast money transfers are what you're after, then look no further than TalkRemit. We ensure you get competitive FX rates and we offer lower fees than any other online global remittance provider. 
Is it time you tried our trusted money transfer service? Register online today or download our money transfer app to enjoy the cheapest international money transfers.
TalkRemit is the hassle-free money transfer service for the global diaspora community. You can send money worldwide from the UK, Sweden, Denmark, Norway, Germany and Belgium. To see which countries you can send money to using TalkRemit, check out our receiver country page: Global Money Transfer Destination Countries Available with TalkRemit. [link to pillar page when it's live] Got any questions? Check out our FAQs or get in touch with our friendly Customer Service Team.